DON SMALTZ HONORED AT 25TH ANNUAL POLAND INVITATIONAL
By Wilma DePiore
On Saturday, May 24th, Don Smaltz was honored at the 50-yard line at the 25th Annual Poland Track and Field Invitational. Athletic Director Brian Banfield presented several awards to commemorate Don's contributions. These are described in more detail in an honorary statement (included in this newsletter) written by Phillip Pillin and Don Carson – two Poland alumni – and recited by meet announcer, Phil Resh, prior to the start of the meet, which began with the Boys and Girls 3200 meter runs. Many surrounded Don throughout the morning to show their support, including family members, friends, and former Poland runners coached by Don. The admiration and appreciation for Don hung in the air like smoke after the starter gun, and the love for "El Coacho" – as he was affectionately called by those whom he coached – was as palpable as the fresh Spring air in our noses.
Don was also given the duties of honorary starter for the Boys and Girls 3200m runs and handed out the award plaques to the events champions. Don was a founding member of the Youngstown Road Runners Club and has since been inducted into its' Hall of Fame. His contributions to our club and to the sport of running are – in my humble opinion – endless.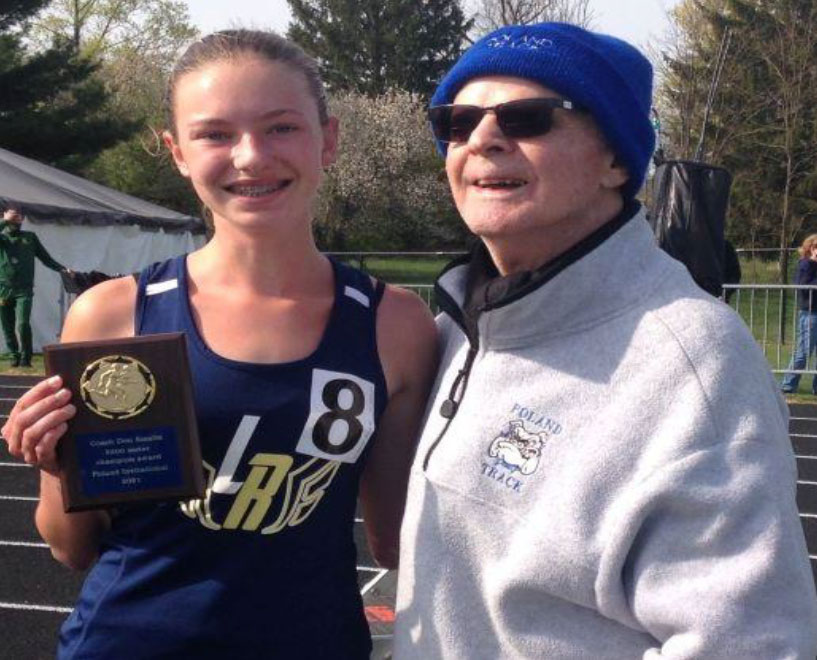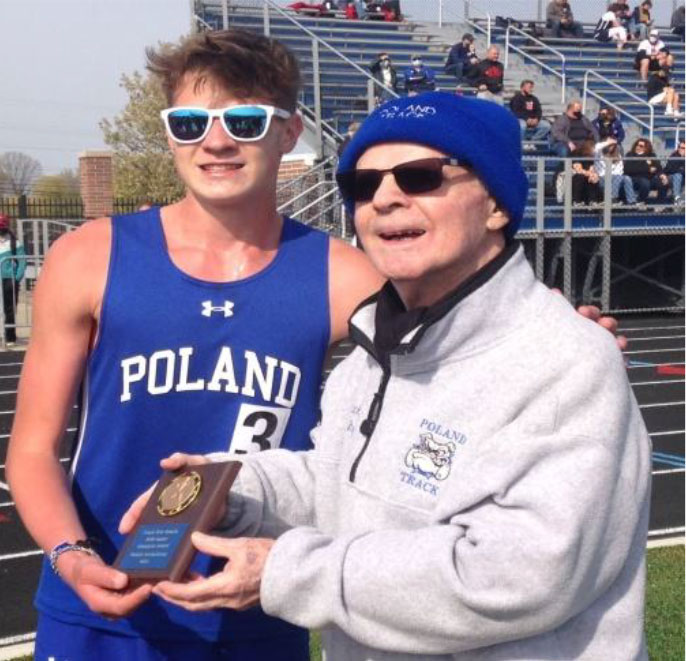 Here are the accolades written by Phil Pillin and Don Carson that was read by the meet announcer:
Today we will be honoring former Poland educator and distance coach, Don Smaltz. During his tenure at Poland Coach Smaltz mentored many athletes in both cross country and track. As of today the 3200 meter runs at the Poland Invitational will be named in his honor.

Coach Smaltz is a graduate of Youngstown Ursuline High School and Youngstown University. He is also an Air Force Veteran. While at Youngstown University he met his girlfriend Janice and according to Don this led to his best decision ever when they married in June of 1960. This summer they will celebrate 61 years of marriage. Smaltz started teaching at St. Christine's in Youngstown where he also drove the school bus. He next taught and coached football at Jackson Milton and then became a visiting teacher in the Youngstown City Schools. Coach Smaltz ultimately was hired by Poland in 1971 to teach coach football with the legendary Dave Pavlansky for whom this stadium is named.

Coach Smaltz coached cross country at Poland 1976-1987 and during the 1978-1982 seasons his boys' team won 42 consecutive dual meets. That is still the record for consecutive wins for any Poland High athletic team. Many of his cross country athletes qualified for the state meet with 3 being honored as All-Ohio. While coaching track he led numerous distance runners to state competition. In 1981 one of his runners, Dave Mirth, won the Class AAA 3200 meter run state title. After his retirement from teaching Coach Smaltz returned to coach and influence new generations of Poland distance runners. During this coaching stint he again mentored countless state track and CC competitors and was the distance coach when the Bulldogs won the 2000 Division ll State team track championship.

The main reason Coach Smaltz is being honored today is because of the lasting impact he had on the lives of his student athletes. His dedication to his athletes and his love and guidance for each of them is immeasurable and may never be fully known.

We would like to thank us wife, Janice, his children Don, Cindy and Mark for sharing him with us. At times it might have seemed that he spent more time with his athletes than with you, but you can see the powerful impact he has had on so many lives.

Coach Smaltz, on behalf of your former student athletes, thank you for everything you have done. Our lives have been made better by our association with you. In your honor the winners of the 3200 meter run at the Poland Invitational will receive plaques to recognize their efforts. Also, plaques with a picture of Coach Smaltz will place here at Poland Seminary High School to commemorate the winners of each 3200 run at the Poland Invitational.